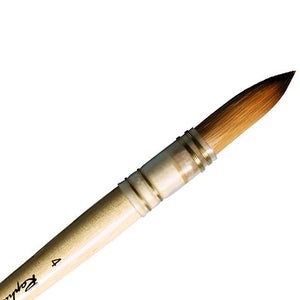 Fibres: golden synthetic and black pointed tip, wash brush.
Plain wood short handle
Nylon quills
Techniques: watercolour, gouache, acrylic, tempera, india ink, calligraphy and silk painting.

The new Kaërell S804 wash is the ideal tool, not only for washes, but also for fine lines and details. The brush's innovative quality is derived from the Kaërell S fibres which render it more reactive and elastic. The artist will therefore experience greater buoyancy on the support and be able to approach work differently.
As the Kaërell S synthetic fibres are extraordinarily durable, this new brush will appeal to all artists concerned with finding the perfect balance between quality and price.