Home of Quality Products for Artists and Printers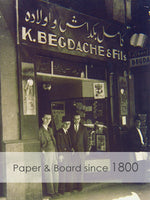 Our Story
Established in 1800, Societe Kamel Bekdache (SKB) is the oldest company in Lebanon – (InfoPro, July 2005). The oldest document found that pertains to the family business dates back to 1892 dealing in paper trade since.

In 2012, SKB expanded its operations and entered the international notebook business under the name Dingbats*. It is an eco-friendly brand of notebooks aimed to provide high quality notebooks to customers worldwide.

In 2014, SKB expanded its local operations and started distributing wide format inkjet printing materials along with accessories through its sister company Bekdache Printing Media and Supplies (BPMS). Today, BPMS has four major departments: office products and photocopy paper, inkjet and wide format digital printing materials, traditional fine arts, and exclusive stationery and wedding cards. We are the distributors of Double A, Voyager, Hexis Graphics, Kohlschein, Amalfi Handmade Cotton Invitation Cards.
Location
Our store
Bekdache Building, Habib Abi Chahla Street, Watah Al Msaytbeh 
Beirut, Lebanon
Mon - Fri, 8am - 5.30-pm
+961 1 306 011, +961 3 377 194