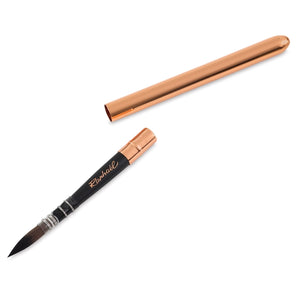 The unique fibers in this new synthetic brush offer a fluid retention capacity equal to no other. The wavy, undulating shape of the fibers in the Raphaël Aqua Soft brush creates spaces that hold water molecules — in contrast to conventional synthetic fibers, which are straight and slippery.

Le Voyageur Travel Brushes —
Great for slipping into a pocket, backpack, or tote, these compact watercolor brushes have a cap that not only protects the brush head but securely fits on the end of the brush to lengthen the handle. These brushes are a portable and practical solution for artists who work outside of the studio.