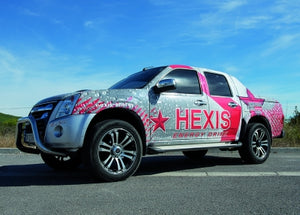 Printable cast PVC film
This product is specially dedicated to full wraps, wall wraps or complex surfaces (rivets, corrugated metal). The combination of highly conformable cast vinyls and the HEX'PRESS technology offers high-quality results while reducing the application time. Your results will be optimized by using our PC190G2 premium laminate, gloss finish, or PC190M3 matt finish.
Printability:
Compatibility with all printing systems
Optimized ink coverage
Alleviates printing flaws due to inaccuracies of printing systems.
Installation properties:
Multilayered film.
Whatever the ink quantity, the tack experienced during the installation remains unchanged.
Due to its composition, the film reduces the risks related to the application quality.
Improved handling
Laminated with PC190G2 or PC190M3, the complex has the ideal
Features
Cast polymeric PVC
Long term
Solvent-based acrylic
Permanent
Grey
Gloss
HEX'Press PE
Applications
Vehicle wraps / complex surfaces