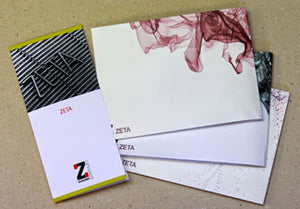 Zanders Zeta is a versatile range of business papers offering plenty of scope for creative ideas. With a wide variety of surfaces and different shades, Zanders Zeta allows various classic and modern combinations to suit all corporate designs. The Zeta paper range has the distinctive staggered ZETA watermark, although many items are also available without the watermark.

There are five surface finishes in the range including Smooth and Wove and three embossed finishes in Hammer, Linen and Micro. The range encompasses whites and light shades in a wide variety of sizes and weights as well as matching envelopes in DL, C5 and C4.

ZETA can be printed using offset litho, hot foil blocking, engraving, thermography and is guaranteed up to 150gsm for laser printing, colour copying and inkjet printing.

These fine papers are manufactured at the Reflex Paper mill in the town of Düren in Germany, which was founded in 1857. All products are made from Chlorine Free pulp (ECF) and carry the Forest Stewardship Council (FSC) certification.